Closed lifts in a linear design
MR motech has a complete range of lifts for any purpose. The primary focus is accessibility for people with reduced mobility, but we can also supply variants to use for the movement of goods and freight.
The lifts are all slow moving and perfectly safe. This makes the service requirements fewer than at the lifts (elevators) after EN81.
MR motech offers products at the lowest market prices and of a proper quality.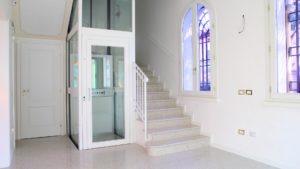 Open persons lifts – The comfortable solution in small level differences.
MR motech ApS´ åbne platformslifte er den driftssikre løsning til personer med nedsat mobilitet. Liftene kræver ingen grube og skal kun tilsluttes strøm.
Liftene leveres enten med halvhøj sikkerhedsdør eller bom. Interiøret er rustfrit, hvilket gør liften velegnet til både indendørs og udendørs placering.
Liftene kan leveres med en løftehøjde fra max 780mm og op til 3600 mm